Prom: Are you ready for it?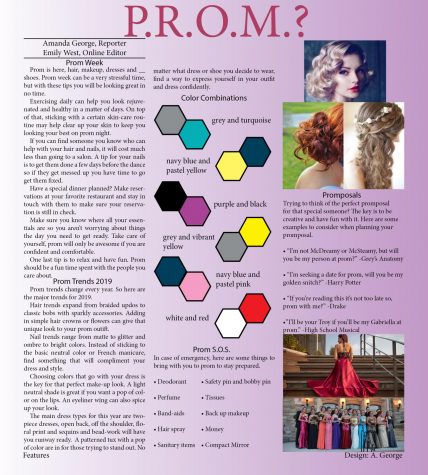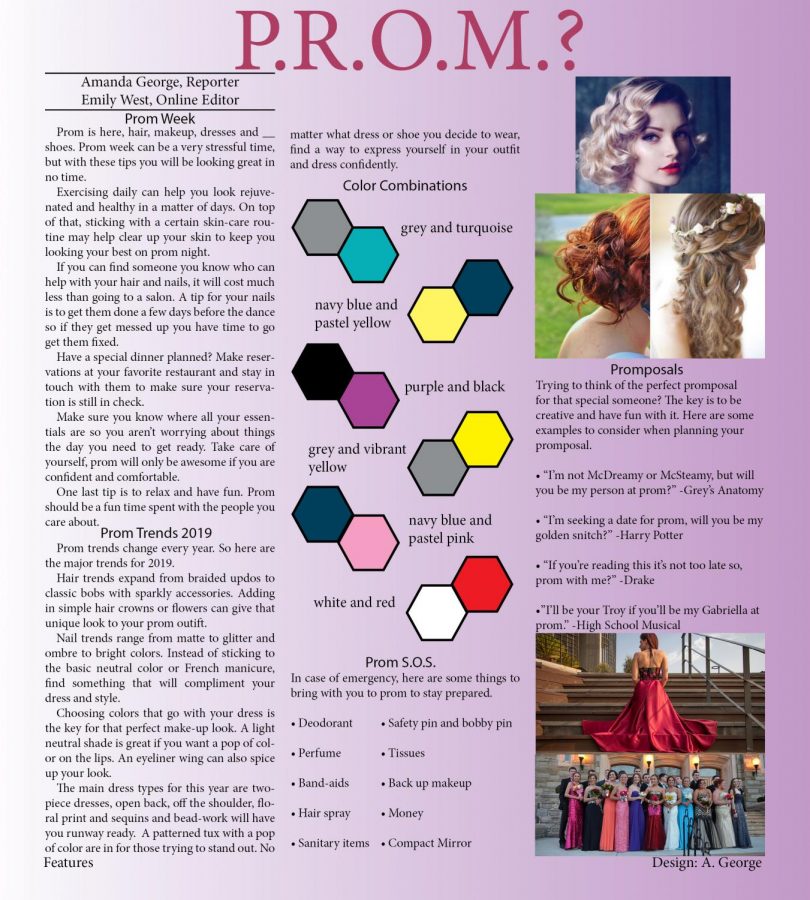 Prom Week
Prom is here, hair, makeup, dresses and __shoes. Prom week can be a very stressful time, but with these tips you will be looking great in no time.
Exercising daily can help you look rejuvenated and healthy in a matter of days. On top of that, sticking with a certain skin-care routine may help clear up your skin to keep you looking your best on prom night.
If you can find someone you know who can help with your hair and nails, it will cost much less than going to a salon. A tip for your nails is to get them done a few days before the dance so if they get messed up you have time to go get them fixed.
Have a special dinner planned? Make reservations at your favorite restaurant and stay in touch with them to make sure your reservation is still in check.
Make sure you know where all your essentials are so you aren't worrying about things the day you need to get ready. Take care of yourself, prom will only be awesome if you are confident and comfortable.
One last tip is to relax and have fun. Prom should be a fun time spent with the people you care about.
Prom Trends 2019
Prom trends change every year. So here are the major trends for 2019.
Hair trends expand from braided updos to classic bobs with sparkly accessories. Adding in simple hair crowns or flowers can give that unique look to your prom outift.
Nail trends range from matte to glitter and ombre to bright colors. Instead of sticking to the basic neutral color or French manicure, find something that will compliment your dress and style.
Choosing colors that go with your dress is the key for that perfect make-up look. A light neutral shade is great if you want a pop of color on the lips. An eyeliner wing can also spice up your look.
The main dress types for this year are two-piece dresses, open back, off the shoulder, floral print and sequins and bead-work will have you runway ready. A patterned tux with a pop of color are in for those trying to stand out. No matter what dress or shoe you decide to wear, find a way to express yourself in your outfit and dress confidently.
Prom S.O.S.
In case of emergency, here are some things to bring with you to prom to stay prepared.
• Deodorant
• Safety pin and bobby pin
• Perfume
• Tissues
• Band-aids
• Back up makeup
• Hair spray
• Money
• Sanitary items
• Compact Mirror
Promposals
Trying to think of the perfect promposal for that special someone? The key is to be creative and have fun with it. Here are some examples to consider when planning your promposal.
• "I'm not McDreamy or McSteamy, but will you be my person at prom?" -Grey's Anatomy
• "I'm seeking a date for prom, will you be my golden snitch?" -Harry Potter
• "If you're reading this it's not too late so, prom with me?" -Drake
•"I'll be your Troy if you'll be my Gabriella at prom." -High School Musical
For color combinations, check out the picture above!