Senior gets D1 football scholarship offers despite Covid
Deavin Hilson sorts through D1 scholarship offers as he finishes his senior season with few games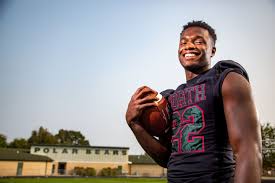 Even when all hope is lost there is still light at the end of the tunnel. Senior, Deavin Hilson proves that for us this year. He's been offered D1 football scholarships and all through a worldwide pandemic. This is North High School's first D1 scholarship in over 10 years. We asked to interview Hilson to see how he has gotten through all of this while dealing with a pandemic, to see how it has impacted his life in good and bad ways. 
The Covid pandemic has definitely been an obstacle in all our lives, but Hilson pushed through all of it. We asked how he felt about his senior year being taken away because of Covid. He said, "I would've never thought that this would happen. Like everything we worked so hard for is thrown away, down the drain. I'm just grateful I could get this opportunity to still go somewhere regardless."
Through his doubt he still has been able to achieve so much. Even though he is doubtful, he's still trying, and is just achieving so many goals. It's truly an inspiration for all of us. Hilson also said, "I've gotten my college paid for playing football, it's impacted my life a lot knowing that I won't be in debt coming out of college." And that's just another positive through all of this. He will be able to achieve his goals and not have to deal with debt.
Hilson wants to try to major in accounting or business, but so far wants to see where his scholarships can take him. So, like most teenagers he's still somewhat unaware on what he wants to do and where he wants to go, which is completely normal and okay for everyone. Although as for the last game this season, Deavin has goals. He says, "I have to give my all so I can get more film out November 17th (North's now canceled next game); it will be the best game I've ever played."
Over the summer Hilson trained for his senior year saying, "This summer has been the hardest I've ever worked before, like I transformed my whole body to what I always wanted it to be." A question we all might be asking is how, what with Covid? He explained that due to Covid there was no way of getting a weight room. He said, "Because of Covid we couldn't get into a weight room so we were working outside with some dumbbells just grinding." And over the summer with his hard work and dedication to the sport, he was able to earn some scholarships and transform his body.
He had an opportunity and he took it. Hilson fought for his future all summer and is now able to achieve his goals. This is definitely something we can all learn from and feel proud for. Proving that you can achieve your goals even through the worst of times.