Getting To Know The Highland Park Community
Have you ever been to the Highland park area? Highland park, home of many North students. This area, just right up the street from North high, is full of fun shops and stores like their very own bakery, a new coffee shop, a pet store and so much more. Full of new and old shops, which may flaunt glass windows from UPVC Shop Fronts, but is all worth checking out. I decided to learn a little bit more about the North side community and made a visit to Hig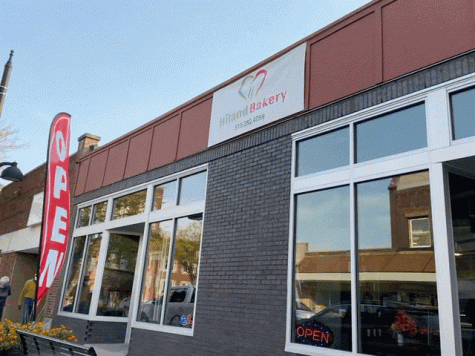 hland park.
I started my journey at the recently updated Highland Bakery, now half coffee shop and half bakery. They reopened the bakery sometime in January and the coffee shop had been finished in August. They have perfect fall treats and drinks like their s'more's latte, new pumpkin spice latte, their classic glaze donuts, and almost anything pumpkin. Pumpkin cake, pumpkin bars, pumpkin cinnamon rolls and more. I decided to get myself a s'more's latte and a slice of pumpkin cake. All was so tasty and just perfect for the season. This is an awesome place for just hanging out and just grabbing a cup of coffee.
Just across the street from Highland Bakery is Chucks Restaurant. A small family owned Italian restaurant offering pizza and their signature onion rings. Unfortunately, due to the coronavirus pandemic, the restaurant is only currently available for curbside pick-up. But they've got great food and for most of their customers, they never disappoint. Just outside of the restaurant, on the side of the building they have an awesome mural from Harding Middle School.
The Highland park area currently has two murals, the one right outside of Chucks restaurant and across the street from there, by a glass shop. The first mural, by Chucks, just has a bunch of fun random characters and patterns drawn on it. It was placed there from Harding middle school just a couple of years ago. The second mural, just across the street is a North High polar bear. It's just a small way of showing the communities North High pride.
A bit more down the street is the neighborhoods pet shop, Aqualand. If you haven't been there before, it's a pet shop for some of the cutest little creatures. Just walking through to look at all the animals is a fun way to pass the time. They have some awesome reptiles, cute bunnies, and more.
I decided to finish my journey at Jenny's Attic, an antique store just a little bit down the street from Aqualand. If you're into the thrifty type of stuff, this is your place. They have cool items at cheap prices. Also, just another place to walk around, help support that small business and be able to get to know the community just a little bit more.
If you ever have the time, I say go check out the Highland park area. We can't forget to support our community and just walking around and getting to know it just a little bit more is a great way to do that.